Eindhoven (NB)
Eindhoven is the largest city of Noord-Brabant. Of its medieval origins little remains. The city expanded rapidly in the 20th century due to its important industries (Philips, DAF) and annexed the neighbouring villages Strijp, Woensel, Tongelre and Stratum. Eindhoven has always been a mostly catholic city.

The Oude Toren ('old tower') is all that remains of the medieval church of St. Petrus in the former village of Woensel, which today is a part of the city. This tower dates from ca. 1440 and is in Campine Gothic style. Nearby a new church was built in 1874-1876.
Location: Oude torenstraat 1 (Woensel)

The St.Catharina is a design of master of neo-Gothic P.J.H. Cuypers, and one of the highlights of his career. The church dates from 1859-1867 and replaced a medieval church.
Location: Stratumseind 2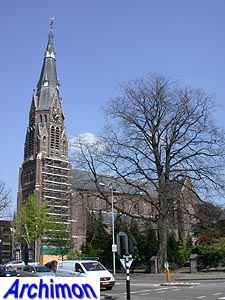 The St. Petrus of Woensel was the first of two neo-Gothic churches in Eindhoven that were designed by architect H.J. van Tulder. This church was built in 1874-1876. The tower collapsed during its construction. The current tower was designed by L.P.J. Kooken and built in 1912-1913.
Location: Kloosterdreef 29 (Woensel)

Van Tulder's other church in Eindhoven is the St. Joris, which was built in 1884-1885. Again, the tower is younger and was designed by Van Tulder's former employee J. van Gils. It was built in 1911.
Location: St. Jorislaan 5 (Stratum)

The St. Trudo in Strijp was built as a towerless cruciform basilica in 1885-1887, when it replaced a smaller Gothic church. The new neo-Gothic church was designed by C. van Dijk. In 1931-1932 it was extended with two more side-aisles by L.J.P. Kooken en C.H. de Bever. The same architects added the tower in 1937-1938.
Location: Strijpsestraat 127-129 (Strijp)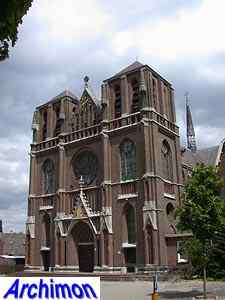 The St. Martinus in Tongelre was designed by E. Corbey, a former employee of P.J.H. Cuypers. The neo-Gothic church was built in 1888-1891. The front with its two towers was never completely finished.

Location: 't Hofke (Tongelre)

This neo-Gothic church is part of Augustinian monastery MariŽnhage, which was built at the site where once a castle stood. Already in 1420 the castle became a monastery, and a few parts from that time have survived, but most of the complex dates from the early 20th century. This H. Hart van Jezuskerk (Church of the Sacred Heart of Jesus) was designed by P.J. Bekkers and J.P.J. Hegener and built in 1897-1898.
Location: Tramstraat 37


The St. Lambertus of Gestel is a neo-Gothic cruciform basilica built in 1909-1911 by architect W. te Riele. Typical for Te Riele's work of that period is the combination of a traditional cruciform groundplan and centralizing elements.

Location: Hoogstraat 299 (Gestel)

Tj. Kuipers designed the former protestant Gereformeerde Oosterkerk, which was built in 1911 in Rationalist style. The Gereformeerden denomination left the church in 1969. It was a mosque from 1973 until 1988, and in 1991 it became the Roman Catholic St. Antonius van Padua, as a replacement for the nearby church by J. Stuyt that had been demolished that year.

Location: Fazantlaan 17 (Tongelre)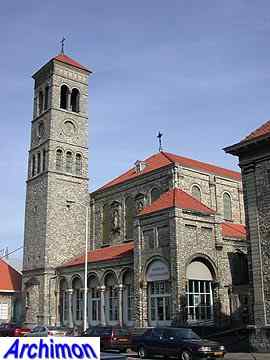 Built in 1917-1918, when the neo-Gothic style had already lost much of its ground, this St. Antonius van Paduakerk was built in neo-Romanesque style. The church was built using natural stone in slightly different colours, that give this building a very colourful appearance. The design was inspired by the St. Lawrence outside the Walls in Rome. Responsible architect was J.H.H. van Groenendael.
Nowadays the building houses a museum.
Location: St. Antoniusstraat 7

The O.L. Vrouw van Lourdes is another late example of neo-Gothicism by architect W. te Riele. In 1920 a small basilica was built, only two traves long, in a fairly traditional neo-Gothic style. In 1932-1933 another trave was added, followed by the tower in Traditionalist style.

Location: Vlokhovenseweg (Woensel)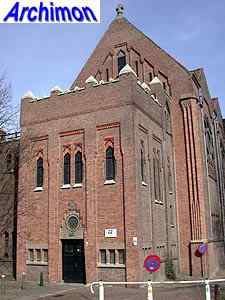 This chapel, the Verrijzeniskapel, also belongs to the Augustinian monastery in the centre and was built in 1924 and designed by French Benedictine monk and architect Dom Paul Bellot in an Expressionist style that owes much to the Catalan brick-architecture of the 19th century.
Location: Kanaalstraat 6
L.P.J. Kooken and F.J. Wolters designed the St. Gerardus Majella, a large basilica in a Traditionalist style with neo-Romanesque influences. The church was built in 1925, the tower was added in 1929.
Location: St.-Gerardusplein 25 (Stratum)
In 1926-1928 the St. Theresia was built as the third parish church in Strijp. The church in combined Traditionalist and Expressionist styles was designed by M.H.J. van Beek.
Location: Sint Theresiaplein (Strijp)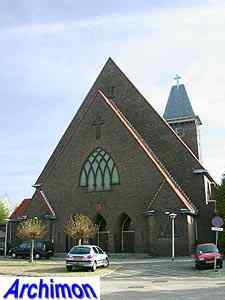 M.H.J. van Beek also designed the St.Johannes Vianney which dates from 1929-1930 and is in a Traditionalist style.

Location: Pastoor van Arsplein 11 (Woensel)
Tthe Heilig Hartkerk ("church of the Sacred Heart") was built in moderate expressionistic style by architects Dom Bellot and his companion H.C. van de Leur. The church was built in 1930-1931, a new entry was added by J. Bedaux in 1951.

Location: Ploegstraat 1

The Schootsekerk was built as a reformed church in 1934 but has been a Christelijke Gereformeerde Kerk since 1974. The church was designed by F.B. Jantzen and is in Expressionist style.
Location: Schootsestraat 47 (Strijp)
The former Christelijke Gereformeerde kerk, nowadays Gereformeerde kerk, was built in 1937 and is a remarkable building in a Traditionalist style.
Location: Plaggenstraat 57 (Strijp)
This tower is all that remains of the St. Jozef or Tivolikerk, a church in Traditionalist style designed by F.C. de Beer and built in 1940-1941. The church was demolished in 2010, the tower will be a part of a new housing complex.
Location: Heezerweg 337 (Stratum)
The former Gereformeerde Maranathakerk, now a pentacostalist church, was built in 1951-1953 and is in a late Traditionalist style with Functionalist features. It was designed by A.C. Nicolai.
Location: Venstraat 30 (Strijp)
The Don Bosco was built in 1953 and was designed in Traditionalist style by C.H. de Bever. It closed in 2006.
Location: Mimosaplein (Stratum)
The reformed Opstandingskerk (resurrection church) was built in 1955 and was designed by architect W. Bruin. It became a Coptic-Orthodox church in 1998.
Location: Stokroosstraat 2b
Also of interest: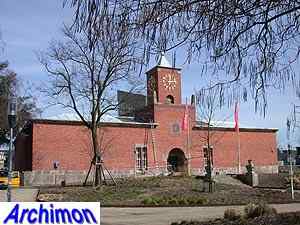 The local museum of art, the Van Abbemuseum, was designed by A.J. Kropholler. It dates from 1933-1936.

Location: Bilderdijklaan 10

Back to the Province of Noord-Brabant